Overview
Video | Supported Decision Making from Transitions Tennessee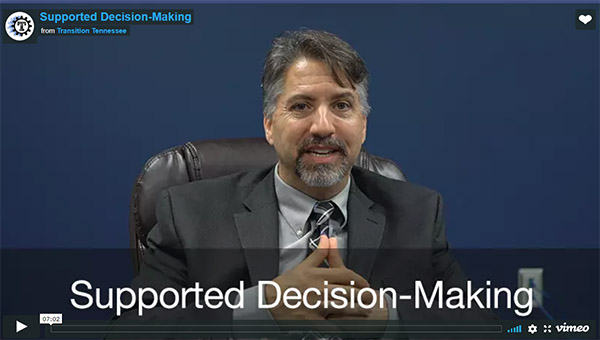 About the National Resource Center for Supported Decision-Making
The National Resource Center for Supported Decision-Making (NRC-SDM) builds on and extends the work of Quality Trust's Jenny Hatch Justice Project by bringing together vast and varied partners to ensure that input is obtained from all relevant stakeholder groups including older adults, people with intellectual and developmental disabilities (I/DD), family members, advocates, professionals and providers. The NRC-SDM partners bring nationally recognized expertise and leadership on SDM, representing the interests of and receiving input from thousands of older adults and people with I/DD. They have applied SDM in groundbreaking legal cases, developed evidence-based outcome measures, successfully advocated for changes in law, policy and practice to increase self-determination and demonstrated SDM to be a valid, less-restrictive alternative to guardianship.
About Quality Trust for Individuals with Disabilities
Quality Trust's vision is a community where everyone is respected, belongs, contributes, is valued and shapes his or her own present and future. Quality Trust's mission is to be an independent catalyst for change in the lives of people of all ages with developmental disabilities. Quality Trust partners with people and their families so they can succeed, thrive and experience full membership in the communities they choose. Quality Trust works with individuals and family members to solve problems, identify opportunities for learning and contribution and find creative ways to minimize "differences" and make the most of each person's abilities.
About the Burton Blatt Institute
The Burton Blatt Institute (BBI) at Syracuse University mission is to advance the civic, economic, and social participation of persons with disabilities in a global society. BBI builds on the legacy of Burton Blatt, former dean of SU's School of Education and a pioneering disability rights scholar, to better the lives of people with disabilities. BBI has offices in Syracuse, Washington, D.C., and Atlanta. Given the strong ties between one's ability to earn income and fully participate in their communities, BBI's work focuses on two interconnected Innovation Areas: Economic Participation and Community Participation. Through program development, research, and public policy guidance in these Innovation Areas, BBI advances the full inclusion of people with disabilities.
About the Beach Center on Disability and the Kansas University Center on Developmental Disabilities
The Beach Center on Disability and the Kansas University Center on Developmental Disabilities (KUCDD) are two research centers housed within the Schiefelbusch Institute for Life Span Studies (LSI) at the University of Kansas, the mission of which to find research-based solutions for the challenges of human and community development, disabilities, and aging. The LSI was created in 1990 out of the 67-year-old Kansas Bureau of Child Research. Today it is one of the largest and most highly regarded human development and disabilities research centers in the country. LSI brings together scientists of diverse disciplines including gerontololgy, psychology, psychiatry, speech pathology, sociology, education, biology, pharmacology, physiology and medicine to study human development from its genetic origins through the final stages of life. LSI supports basic and applied research, treatment and assessment clinics, service coordination and delivery, consultation, and training—notably, training of the next generation of scientists. Life Span Institute's 12 centers and Peruvian affiliate have more than 150 programs and projects active at any one time in Kansas, as well as other states and Peru. Many projects directly serve individuals, families, and communities located in underserved Kansas City neighborhoods and rural Kansas counties.  The Beach Center and the KUCDD focus on issues pertaining to self-determination and quality of life for people with intellectual and developmental disability.  Within the NRC-SDM, the Beach Center and KUCDD will be partnering with the Institute for Human Development at the University of Missouri-Kansas City to develop assessment tools and procedures to support the maximal participation in decision-making by people with intellectual disability and people who are aging and to disseminate information on SDM to stakeholders (parents and family members, people with disabilities, professionals) in the disability world through the National Gateway to Self-Determination website.
Partners
NRC-SDM partners include the Collaboration to Promote Self-Determination (CPSD), the Autistic Self- Advocacy Network (ASAN), the National Association of State Directors of Developmental Disabilities Services (NASDDDS), the National Association of States United for Aging and Disabilities (NASUAD), the National Legal Resource Center (NLRC), the National Center on Elder Abuse (NCEA), the National LTC Ombudsman Resource Center, DC LTC Ombudsman, Title IIIB legal providers, the American Bar Association's Commission on Law and Aging (ABA), the Association of University Centers on Disabilities (AUCD), Project Action!, the Sibling Leadership Network (SLN), the Canadian Association for Community Living (CACL), Family Voices, Parent to Parent USA, and TASH.