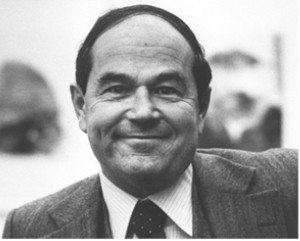 Burton Blatt (1927–1985) was a pioneer in humanizing services for people with intellectual disabilities. As an advocate of deinstitutionalization, he helped initiate community living programs and family support services. In his clinical work he emphasized the provision of education to children with severe disabilities, those whom he called "clinically homeless." As a national leader in special education, he called for programs to integrate students with disabilities into public schools and worked to promote a more open society for them.
His career led him to become a nationally recognized leader and university administrator, but Blatt remained a teacher most of all. He is perhaps best remembered as author of the photographic exposé Christmas in Purgatory (1966), a searing portrait of life in a mental institution that brought national attention to the abuse of people with intellectual disabilities in America's institutions; and the follow-up study, The Family Papers: A Return to Purgatory (1979). In these and more than 300 other books, chapters, and articles, he emphasized the humanity of all people, regardless of the nature or severity of their disabilities.
Blatt received numerous awards from governmental, professional, university, and family organizations for his service on behalf of people with disabilities and their families, and held a variety of leadership roles in professional organizations.
Burton Blatt Papers presented by Syracuse University Archives
The archival Collections and Personal Papers of Burton Blatt cover the professional portion of Blatt's life as teacher, administrator and advocate for the disabled, but also shed light into Blatt as an individual. The collection consists of 127 boxes – approximately 50 cubic feet. Researchers interested in the Burton Blatt Papers should mention the collection's Accession Number (4281) when contacting the Syracuse University Archives. Please note that the collection is housed off-site and advance notice is required to allow time to have the materials brought to the Reading Room. Burton Blatt: An inventory of his papers at the Syracuse University Archives
Videos about Burton Blatt
Burton Blatt Institute (BBI) 2006 Video