Overview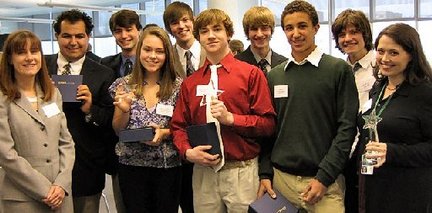 The 2009 Communications Campaign Contest ended on November 13, 2009. An awards event was held on December 1, 2009 at which Fayetteville-Manlius High School's We "R" Above campaign was announced the winner. View the winning entry: We "R" Above
We challenged Central New York high school students to create ideas to build understanding of disability rights in high schools. We invited high schools students to develop an effective communication, marketing, advertising, or other campaign to increase high school students' understanding of disability rights.
Central New York high schools invited to participate were Cicero North High School, East Syracuse-Minoa Central High School, Fayetteville-Manlius High School, Lafayette Junior-senior High School, and. Liverpool High School.
Student teams selected one of the following four groups to focus on.
Mobility Disabilities (people who have difficulty walking, including people who use wheelchairs, scooters, crutches, canes
Mental Illness (including depression. Bipolar disorder, Schizophrenia)
Sensory Disabilities (including blindness and vision disabilities and deafness and hearing disabilities)
Intellectual and Developmental Disabilities (including Down Syndrome, mental retardation, autism and developmental disabilities).
Partners