Start-Up NY/Inclusive Entrepreneurship, a first-of-its kind program, has assisted more than 60 people with disabilities turn business ideas into reality. The program has been so successful that it's being used as a model in Manhattan and other areas.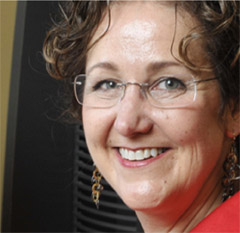 Linda Erb's love of flying turned into a 20-year career as an international flight attendant with American Airlines. But, a September 2007 accident grounded Erb's career in the air, altering the course of her life. After slipping on an oil-covered floor in a terminal at Brussels, Belgium, airport, she faced debilitating injuries. Three bones were knocked out of place in Erb's neck, causing vision impairment, cognitive issues, and constant migraines.
"In an instant everything changed. I thought to myself, 'I will never be able to multi-task again or do what I love,'" says Erb, of Camillus, New York. "I battled debilitating pain while trying to figure out what I was going to do with the rest of my life. How was I going to become a productive part of society again? It took me a year of thinking to figure out what I was going to do. "
Erb's chance encounter with a Burton Blatt Institute (BBI) staff member in 2008 would help put her life back on a positive path. And her career, as a business owner this time, has taken off again. "I attended the WISE (Women Igniting the Spirit of Entrepreneurship) Symposium and during the social hour I took a break and sat down on a couch feeling exhausted. Me'Shae Brooks-Rolling [senior operations manager, Medicaid Infrastructure Grant] shared the couch with me and introduced herself. She asked what my business idea was, and during the conversation she made me aware of the Start-Up NY/Inclusive Entrepreneurship program."
Now, three years after the meeting, Erb is the owner of OhGoodyGoody.com, an online retailer that sells gift certificates to such locally owned businesses as wineries, spas, and gift shops. "If it were not for the program, OhGoodyGoody.com would not exist. I had no business skills at the time, and I had no idea how to get skills."
What Erb did have was a unique business idea that she successfully turned into reality through the services provided by Start-Up NY/Inclusive Entrepreneurship. And, she isn't alone in achieving her dreams. From a dog grooming and day care service to a car repair garage, entrepreneurs with disabilities, including veterans, are making their mark in the Central New York business community, thanks to the innovative, first-of-its-kind program developed by BBI.
Since 2007, Start-Up NY/Inclusive Entrepreneurship—a partnership of BBI, SU's Whitman School of Management, and Onondaga County, New York—has assisted 204 individuals with diverse disabilities in the creation of more than 60 new businesses. "We know people with disabilities can become successful small business owners given the opportunity, training, and resources," says Gary Shaheen G'86, BBI senior vice president.
Housed at the South Side Innovation Center in Syracuse, the program includes business plan development, benefits planning assistance, financing consultation, training programs, and other resources. For Erb, one of the most rewarding aspects was that Start-Up NY/Inclusive Entrepreneurship allowed her to collaborate with SU students. The program teaches and guides college students who work as business development consultants with the entrepreneurs. Students participate as part of Inclusive Entrepreneurship Consulting, a course jointly taught by the Whitman School and BBI that has enrolled more than140 students.
Start-Up NY/Inclusive Entrepreneurship not only makes self-employment a viable option for people with disabilities, but it also has a positive impact on the local economy. When people with disabilities earn money as small business owners, they can reduce their reliance on public assistance, increase their standard of living and self-esteem, and contribute to the business and economic growth.
BBI managed the design and implementation of Start-Up NY/Inclusive Entrepreneurship on behalf of Onondaga County, which received a three-year, $3 million grant from the U.S. Department of Labor Office of Disability Employment Policy to create the program. "The work accomplished by the Burton Blatt Institute at Syracuse University reinforces our belief that, with the correct supports, all citizens can find their rightful place in our county's economic fabric," says County Executive Joanne M. Mahoney '87, L'90.
And now, budding entrepreneurs with disabilities outside of Central New York will reap the benefits of the program. BBI is working with community partners to launch programs in other locations, including Manhattan. "I was sent out into the business world very well equipped," says Erb.