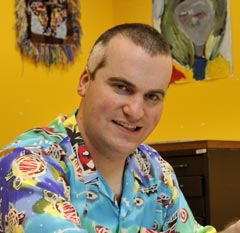 As Jeremy Pratt blends the techniques of his favorite artists—Monet, Picasso, Van Gogh—to create his own masterpiece inside a Buffalo, New York, art gallery, he also envisions the day when he can walk into a home of his own. For Pratt, a self-employed artist with a learning disability, achieving the American Dream seemed unattainable just a few years ago.
"I've always had to work a bit harder than my friends without disabilities," says the 28-year-old. "But I finally feel like I'm on the way to having what everyone dreams of." Pratt's diligence in saving money is paying off; he plans to start house hunting as early as 2013.
Pratt and thousands of other individuals across New York are building financial security, thanks to an unprecedented statewide initiative spearheaded by the Burton Blatt Institute (BBI) and the United Way of New York State. The BBI-United Way partnership, formed in 2009, led to a coordinated effort to support people with disabilities who dream of economic self-sufficiency but aren't certain about the necessary steps.
The intent was to avoid duplication of existing community initiatives already addressing poverty and asset accumulation and improve capacity to serve people with disabilities. As a result, a unique community-based collaboration has improved access by people with diverse disabilities to financial literacy and savings resources.
Pratt first learned about the accessible paths to prosperity during a meeting with his case manager, and it immediately piqued his interest. "We looked at other services and we found that this was the best fit," says his mother, Carol Pratt. "The pathways have enabled him to feel secure and confident, especially when it comes to tackling finances."
Thanks to the program, the stepping stones to his financial stability have been laid out in a concise, defined way. Pratt took financial education classes, opened a checking account, and is in the process of establishing credit. He's also saving monthly through an Individual Development Account administered by Belmont Housing Resources of Western New York, which matches four dollars for every dollar saved.
"I can easily access money through my checking account. When I get a bill in the mail, I immediately send out a check, and I have the ability to pay for a haircut and or go out to dinner," he says, as he describes his newfound financial freedom.
"The initiative takes people with disabilities well beyond reliance on public benefit programs, which are aimed at meeting basic level of needs rather than increasing assets," says Michael Morris, BBI executive director. "They are able to live more freely by reducing dependence on public benefits while taking part in asset-building programs."
Pratt and other participants are also reaping tax benefits that they may have not been aware of. Through the Volunteer Income Tax Assistance program, trained preparers assist low-income residents, free of charge. The preparers helped Pratt claim the Earned Income Tax Credit (EITC), which reduced his taxable income and increased his refund. With the money received from the EITC, he was able to add to his savings for a down payment on a house.
"Since the initiative was launched, we've seen a major increase in the number of people with disabilities seeking free tax preparation in the Buffalo area. We surpassed our goal by more than 100 percent," says Karyn Hausknecht, Pratt's housing programs manager. In addition to improving economic stability, the series of strategies helps to decrease stress, expand opportunities for community participation, and positively impact quality of life.
"Our collaboration with BBI has addressed systems change so that local coalitions and their partners are better prepared to address the specific needs of people with disabilities," says Mary Shaheen, United Way of New York State vice president. "We are now seeing the impact firsthand."
As is Pratt's mother: "For someone who worked ten times as hard to get a high school diploma, overcoming other obstacles that stand in his way means so much to Jeremy."
Fast Facts:
In 2009, BBI and the United Way of New York State, through the New York State Medicaid Infrastructure Grant, began working together on a set of strategies aimed at expanding the participation of persons with disabilities in asset development activities.
Six communities engaged with disability partners to create linkages for New Yorkers with disabilities to livable wages through increased access to work incentives planning, health care, and asset accumulation tools and strategies. The economic empowerment activities, also supported by the Office of Mental Health, are sustainable over time.
10,750 tax returns prepared
353 bank accounts opened
97 savings bonds purchased
229 referrals to financial literacy education programs