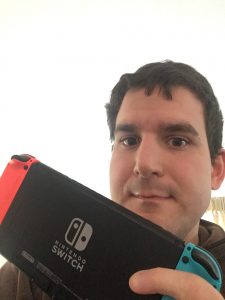 February 3, 2020
Benjamin Jones has been working on researching ways to make video gaming and gaming culture more accessible for people with disabilities. He has researched multiples topics including virtual reality, gaming for the visually impaired and blind, video games with a positive representation of mental illness/mental health, gaming for those with mobility-related disabilities, and the accessibility of the three major home video game consoles. He does his research on a case-by-case basis in order to explore what might best make video games accessible for people with disabilities; one of his approaches utilizes hands-on gaming technology. This hands on-research largely consists of using the Xbox One Adaptive Controller and an Oculus Rift S virtual reality headset. These devices allow for testing various situations that disabled people could find themselves in when gaming. Jones believes that since video gaming is a mainstream hobby, it should be using elements of universal design to make gaming more inclusive. He has found that many accessibility-related issues are due to developers not implementing design options and assuming that their entire audience is able-bodied. 
Jones has found that some developers and hardware manufacturers have actually listened to players and users with disabilities and implemented accessibility options into games and hardware. Two of the three major video game consoles have the ability to have controls remapped and all three have some visual accessibility options such as magnifiers and screen readers. Jones has also found that virtual reality can help those with partial vision be able to play games designed for fully sighted people due to the format of the dual screens and the closeness of the screens to the player's eyes. He has also found that with spatial surround sound audio, blind players are able to play some games designed for people who are sighted. Jones has also found information about how to make game controls accessible. This accessibility approach addresses the fact that people with limited or no use of their hands would be unable to play games "normally." The Xbox One has been deemed by Jones to be the most accessible home console for those with mobility disabilities; this is due to how it supports the widest variety of controller options and has the deepest remapping capability. Other consoles have similar options, but none go as in depth as the Xbox One. 
Professionally, this work has meant a lot to Jones, as it has improved his research skills as he plans to pursue a career in disability services. He feels that if video gaming can be made more inclusive, other technologies may follow suit. This perspective goes along with the Burton Blatt Institute's mission of advocating for the rights of people with disabilities, as Jones believes that the usage of technology for entertainment or other purposes is something that all people regardless of ability should have the right to use. While gaming as a field may be disregarded by some as not pertinent to the field of disability studies, some people with disabilities consider themselves gamers–whether video or tabletop. This orientation toward access and engagement is consistent with the mission of the Office of Interdisciplinary Programs and Outreach and its goal of bringing myriad fields and people into conversation with disability studies.