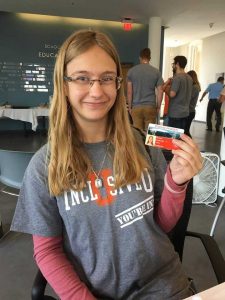 Hi, my name is Cobia Bruggeman, and I'm 21 years old and enrolled in InclusiveU. I am currently an intern in the Office of Interdisciplinary Programs and Outreach at the Burton Blatt Institute.
I have a career goal to work in a cat café. The reason I want to work at a cat café is because I would love to take care of cats and help owners take care of their cats. I think it would be a perfect job for me to experience. I haven't explored opening my own cat café, as I don't really know how to run a business, so that's why I think it would be easier for me to start working at one.
I am very fond of cats and have 2 cats of my own, Fluffer and Autumn. I also love art, baking and sushi. I've taken classes in Natural, Earth, and River Sciences, German, Ceramics and Figure Drawing, and World Cultures. I live with my parents. I like to watch movies and walk our dog, a husky named Spirit. My Grandma and I have always liked visiting SU and getting Starbucks everyday, but since COVID-19, we haven't been able to do this. We hope we can go back, as we really miss being there. I don't like change or sports. I have a different and unique way of thinking, learning, and communicating. Through my internship and InclusiveU program, I'm working on my creative and critical thinking skills. This is a great learning experience for me.
I found out about SU and the InclusiveU program when I was enrolled at BOCES. My family and I visited the campus, and really liked it. At first, I just wanted to learn more about the classes at SU (for fun), to see what else I can learn, besides baking. Since I started my internship, I've been thinking more about what kind of job I would want. The people at SU are very helpful, and I think they can help me with my goals.