February 20, 2019
Special Screening of Documentary End of Life
End of Life, a documentary film that was nominated for the 2018 European Film Awards, will be shown Sunday, March 3, at 2 p.m. in Room NAB 4414B of Upstate Medical University's Weiskotten Hall, 766 Irving Avenue, Syracuse. The screening will be followed by a panel discussion and reception with the filmmakers, Paweł Wojtasik and John Bruce. The panel will include members of the Syracuse-area hospice, medical and spiritual communities. The event is free and open to the public. The filmmakers can be available for interviews upon request.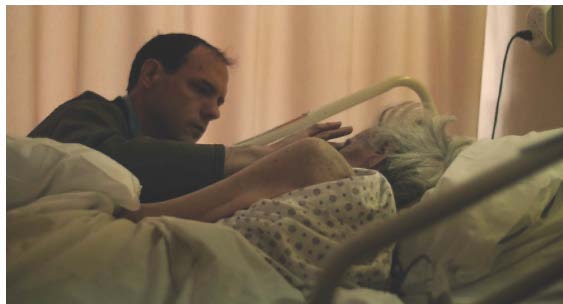 Wojtasik and Bruce trained to be end-of-life doulas and documented many hours of their interactions with the five people featured in the film, who were each at various stages in the process of dying.
The 2018 New York Film Festival writes, "John Bruce and Paweł Wojtasik's radiant film takes a respectful and serenely composed look at the very activity, the actual work, of dying for five individuals: Sarah Grossman, the spiritual teacher Ram Dass, Carol Virostek, Doris Johnson, and the artist, writer, and performer Matt Freedman. This is not a film of rhetoric but of concentrated and sustained attention to an area of experience at which we all arrive but from which the living flinch. Bruce and Wojtasik are tuned to a very special and extraordinarily delicate wavelength as artists, and they create a rare form from the silences, the incantatory repetitions, the mysterious repeated gestures, and the communions with the mystery of being enacted by the dying."
Free parking will be available in the Irving Ave Garage and the Hillside lot.  Visit http://parking.syr.edu/wp-content/uploads/2018/09/Pad-Map-North-Master-September-2018.pdf for a parking map that also identifies the location of Weiskotten Hall. The film is closed captioned.  American Sign Language (ASL) interpretation will be provided for the panel discussion and the reception.
Co-sponsors for this event include the Zen Center of Syracuse, Upstate Medical University's Spiritual Care Center, the Consortium for Culture and Medicine, SU's Aging Studies Institute, Hendricks Chapel, the Contemplative Collaborative, and the Burton Blatt Institute's Office of Interdisciplinary Programs and Outreach. Media sponsor is WRVO Public Media.
About the film
Leo Goldsmith of Artforum writes, "the filmmakers become not merely observers but caregivers—embedded, and in one scene literally in bed, with their subjects. In this way, the End of Life subtly breaches the boundaries between documentary modes, the real and the fantastic, with a style that alternates (and sometimes collapses) the immediacy of the Sensory Ethnography Lab's films with a cosmic, even comic surrealism."
More about the film at www.endoflifeproject.com
About the Co-Sponsors:
The Zen Center of Syracuse offers the profound yet simple practice of meditation to people from all walks of life, thereby making this community a more compassionate and caring place. https://www.zencenterofsyracuse.org/
The Spiritual Care Center of Upstate Medical University provides spiritual support to patients and families in times of crisis and change of health condition. http://www.upstate.edu/spiritualcare/index.php
The Consortium for Culture and Medicine (CCM) is a cooperative interdisciplinary program of Le Moyne College, SUNY Upstate Medical University, and Syracuse University. http://www.upstate.edu/ccm/
The Aging Studies Institute is an all-university institute that coordinates and promotes aging-related research, training, and outreach at Syracuse University.  https://asi.syr.edu/
Hendricks Chapel is the diverse religious, spiritual, ethical and cultural heart of Syracuse University that connects people of all faiths and no faith through active engagement, mutual dialogue, reflective spirituality, responsible leadership and a rigorous commitment to social justice. http://hendricks.syr.edu/
Syracuse University's Contemplative Collaborative supports students, faculty and staff who engage in contemplative practices, as well as teaching strategies, scholarly research, and discourse surrounding these practices, with the goal of cultivating focused attention in ways that foster insight and deepen understanding of complex issues. http://hendricks.syr.edu/services-and-initiatives/contemplative-collaborative.html
About the Office of Interdisciplinary Programs and Outreach
The Office of Interdisciplinary Programs and Outreach will create and advance interdisciplinary, intersectional educational programs, research and pedagogy focused on disability justice, identities, cultures and studies. The office will also engage with a wide array of University constituents to interface, network and collaborate with local, regional, national and global partners, and pursue development and advancement opportunities that underscore, celebrate and enhance the rich and nuanced experiences of disabled people. Disabled students, faculty, staff and alumni—including the significant experience and contributions of veterans—will be at the heart of this initiative.
About the Burton Blatt Institute
BBI reaches around the globe in its efforts to advance the civic, economic, and social participation of people with disabilities, with offices in Syracuse, NY, New York City, Washington, D.C., Lexington, KY, and Atlanta, GA. BBI builds on the legacy of Burton Blatt, a pioneering disability rights scholar, to better the lives of people with disabilities. For more information about BBI, visit: https://bbi.syr.edu.