July 6, 2017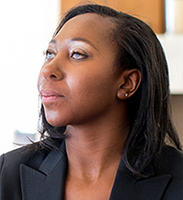 Angela Winfield, J.D., a leading international champion and advocate of disability civil rights has joined the Burton Blatt Institute (BBI) Board of Advisors. BBI at Syracuse University reaches around the globe in its efforts to advance the civic, economic, and social participation of people across the spectrum of disability.
Ms. Winfield is the Director of Inclusion and Workforce Diversity at Cornell University in Ithaca, New York. In this role, she provides leadership, vision, energy, and a unified philosophy to the university's diversity, inclusion, and engagement efforts. Ms. Winfield develops and implements strategies to create an inclusive environment in support of a diverse workforce, including oversight of equal employment and Americans with Disabilities Act implementation.
BBI Chairman and University Professor (Law) Peter Blanck said: "Angela Winfield is an extraordinary leader and visionary, who will greatly add to the amazing depth and breadth of the BBI Board of Advisors in ways that continue to make a positive impact on the lives of people with disabilities around the world."
Winfield is Of Counsel with Barclay Damon in its Commercial Litigation practice group and previously helped to lead the Northeast ADA Center, which similar to BBI's Southeast ADA Center provides information, training and technical assistance on the Americans with Disabilities Act. She is a commissioner for the American Bar Association's Commission on Disability Rights and serves on the Pathways to the Profession subcommittee on bias interrupters. Winfield is a certified success and leadership coach and motivational speaker. She earned her J.D. from Cornell Law School and her B.A. from Barnard College of Columbia University.
Ms. Winfield is a member of the Blue Ribbon Advisory Group for BBI's recent partnership with the American Bar Association to conduct a first-of-its kind nationwide study to identify the biases encountered by disabled and/or LGBT+ lawyers in the legal profession, and to help develop and implement strategies to ameliorate such biases.