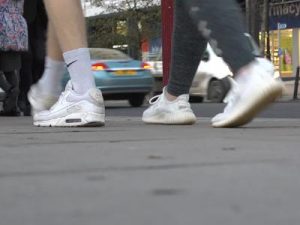 Physical distancing measures. Electric scooters, bikes, silent cars. Floating bus-stops, confusing or dangerous crosswalks. Blockages, low branches, slip and trip hazards. Spaces that have to be shared with vehicles or with pedestrians looking at their phones. Poor signage, lighting, noise, fumes. Roadworks. And so on!
Do you find some streets in Syracuse (New York) or Atlanta (Georgia) difficult to use?
Have you reported them?
Have you thought about bringing legal action?
Have you tried to persuade local or state government to make things better?
This research project investigates the problems caused by unequal access to streets in 10 cities around the world and the way law and government respond to them. We want to hear about your experiences of inaccessible or difficult streets in Syracuse or Atlanta and the reasons why you have or haven't reported or challenged problems.
We are particularly keen to hear from people with disabilities, older adults and parents or caregivers. If you would be happy to be interviewed by phone or online, please get in touch with us as soon as possible.
As well as an interview, you will have the chance to get involved in the project in other ways, which we will explain. We would like to keep in touch with you as we work on guides and tools and bring you together with other people interested in the subject to share experiences and ideas. Our aim is to draw on what you tell us to help make cities more inclusive.
If you can help us by sharing your experiences in an interview, please
IPS Project
950 Irving Avenue Dineen Hall, Suite 446
Syracuse, NY 13244-2130
Website: InclusivePublicSpace.leeds.ac.uk
About BBI
The Burton Blatt Institute (BBI) at Syracuse University reaches around the globe in its efforts to advance the civic, economic and social participation of people with disabilities. Through program development, research and public policy guidance, BBI advances the full inclusion of people with disabilities. BBI builds on the legacy of Burton Blatt, a pioneering disability rights scholar. BBI has offices in Syracuse; Washington, D.C.; Atlanta; New York City; and Lexington, Kentucky. Learn more at bbi.syr.edu.