March 7, 2019
Established in 2013, "Cripping" the Comic Con ("CripCon") is an interdisciplinary, international symposium that provides participants (including students, faculty, staff, and community members) with the opportunity to engage in a broad array of reflective discussions about perceptions of disability that exist implicitly and explicitly within mainstream popular cultures, particularly comic books, graphic novels, and manga.
Our sixth "Cripping" the Comic Con — "And Justice for All…?" — focuses on disability justice, freedom of expression, and comics culture in today's world. This year's symposium features a plenary session, seven creative workshops, complimentary breakfast and dinner buffets, a gaming room, a quiet ("low stim") room, a photobooth (yes, it's accessible!), autograph stations, vendors and exhibitors, and many other components.
Meet our plenary panelists: Nancy Silberkleit, Co-CEO of Archie Comics; Leroy Moore and Keith Jones, of Krip-Hop Nation; graphic memoirist, Georgia Webber; comics creators, Jason Pittman and Lucy Wales; and artistic consultant, Jason Harris.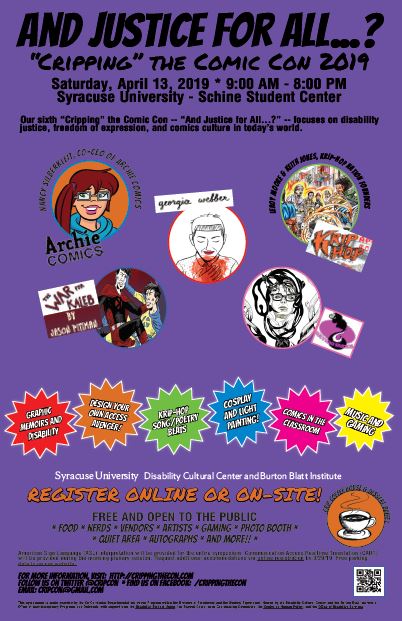 And Justice for All…?
Saturday, 4/13/19, 9 a.m. to 8 p.m. 
Schine Student Center
Free and open to the public**.
#CripCon19
@CripCon19
Event Poster | Event Poster Text Description
Preliminary Schedule
(Complete schedule forthcoming.)
Online Registration
(On-site registration is welcomed.)
For more information, visit: http://crippingthecon.com
Follow us on Twitter @cripcon * Find us on Facebook: /crippingthecon
email: cripcon@gmail.com
Sign Up to Volunteer! | Volunteer Poster 
Volunteer Poster Text Description
(Questions? Ask Volunteer Coordinator, Sajida Ayyup: skkunjum@syr.edu)
American Sign Language (ASL) interpretation will be provided for the entire symposium. Communication Access Realtime Translation (CART) will be provided during the plenary session. The deadline for sharing dietary preferences and for requesting other accommodations is 3/29/19 – requests and preferences can be shared through the online registration form.
Parking is complimentary in the University Avenue Garage, on a first come, first serve basis. A campus parking map can be found, here: http://bit.ly/2tlGuTU. For any questions re: parking, please contact Dee Bailey at 315-443-5319 or debailey@syr.edu.
Learn more about accessibility and inclusion at the CripCon.
Get logistical information (especially useful for guests visiting from out of town).
"CripCon19" is co-hosted by the Disability Cultural Center and the Burton Blatt Institute's Office of Interdisciplinary Programs and Outreach, with support from the Disability Student Union, the Beyond Compliance Coordinating Committee, the Center on Human Policy, and the Office of Disability Services.
This year, "Cripping" the Comic Con again received significant Co-Curricular Departmental Initiatives funding from the Division of Enrollment and the Student Experience, for which the organizers are deeply appreciative.
**NOTE: 7 to 8 p.m. will be a "Crip" Coffee House and Dessert Buffet, a caucusing opportunity for Crip, Autistic, Neurodivergent, Deaf, and Mad folks, and others who self-identify as disabled or having a disability. Reception courtesy of the Beyond Compliance Coordinating Committee, with support from the Disability Student Union. ASL interpretation provided.
Questions? Contact sudcc@syr.edu
About the Office of Interdisciplinary Programs and Outreach
The Office of Interdisciplinary Programs and Outreach will create and advance interdisciplinary, intersectional educational programs, research and pedagogy focused on disability justice, identities, cultures and studies. The office will also engage with a wide array of University constituents to interface, network and collaborate with local, regional, national and global partners, and pursue development and advancement opportunities that underscore, celebrate and enhance the rich and nuanced experiences of disabled people. Disabled students, faculty, staff and alumni—including the significant experience and contributions of veterans—will be at the heart of this initiative.
About the Burton Blatt Institute
BBI reaches around the globe in its efforts to advance the civic, economic, and social participation of people with disabilities, with offices in Syracuse, NY, New York City, Washington, D.C., Lexington, KY, and Atlanta, GA. BBI builds on the legacy of Burton Blatt, a pioneering disability rights scholar, to better the lives of people with disabilities. For more information about BBI, visit: https://bbi.syr.edu.