February 20, 2019
Source: Bellingham Review
Stephen Kuusisto's poem "Hive" is featured in Issue 77 of the Bellingham Review.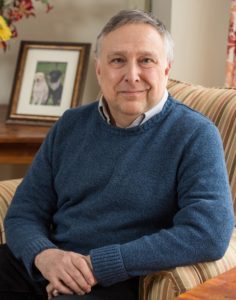 What would you like to share with our readers about the work you contributed to the Bellingham Review?
I'm always looking for intersections between disability and literary imagination.
Tell us about your writing life.
I studied creative writing at the University of Iowa's "Writer's Workshop" in the 1970's with Donald Justice and Marvin Bell. Over time I've gravitated to creative nonfiction as a means of exploring the dynamics of embodiment and the literary imagination.
Which non-writing aspects of your life most influence your writing?
I own two horses and two dogs. I suppose animals are central to my thinking about life, imagination, and bio politics.
What writing advice has stayed with you?
Don't stop.
What is your favorite book (or essay, poem, short story)? Favorite writers?
Walt Whitman; Emily Dickinson; Finnish poet Pentti Saarikoski
What are you reading right now?
Diarmaid MacCulloch's Silence: A Christian History
What project(s) are you working on now, or next?
A collection of poems entitled Old Horse, What is to Be Done?
Anything else our readers might want to know about you?
I'm deeply interested in the intersections of identity and human rights.
Where can our readers connect with you online?
STEPHEN KUUSISTO directs The Burton Blatt Institute's Interdisciplinary Programs in disability at Syracuse University where he holds a University Professorship. He is the author of the memoirs Planet of the Blind (a New York Times "Notable Book of the Year") and Eavesdropping: A Memoir of Blindness and Listening and of the poetry collections Only Bread, Only Light, and Letters to Borges. His newest memoir, Have Dog, Will Travel: A Poet's Journey is new from Simon & Schuster. A graduate of the Iowa Writer's Workshop and a Fulbright Scholar, he has taught at the University of Iowa, Hobart & William Smith Colleges, and The Ohio State University. Professor Kuusisto has served as an advisor to the Metropolitan Museum and the Museum of Modern Art in New York and the National Endowment for the Arts in Washington DC and has appeared on numerous television and radio programs including The Oprah Winfrey Show; Dateline; All Things Considered; Morning Edition; Talk of the Nation; A & E; and Animal Planet. His essays have appeared in The New York Times; The Washington Post; Harper's; The Reader's Digest; and his daily blog "Planet of the Blind" is read globally by people interested in disability and contemporary culture.
He is a frequent speaker in the U.S. and abroad. His website is: www.stephenkuusisto.com
About the Office of Interdisciplinary Programs and Outreach
The Office of Interdisciplinary Programs and Outreach will create and advance interdisciplinary, intersectional educational programs, research and pedagogy focused on disability justice, identities, cultures and studies. The office will also engage with a wide array of University constituents to interface, network and collaborate with local, regional, national and global partners, and pursue development and advancement opportunities that underscore, celebrate and enhance the rich and nuanced experiences of disabled people. Disabled students, faculty, staff and alumni—including the significant experience and contributions of veterans—will be at the heart of this initiative.
About the Burton Blatt Institute
BBI reaches around the globe in its efforts to advance the civic, economic, and social participation of people with disabilities, with offices in Syracuse, NY, New York City, Washington, D.C., Lexington, KY, and Atlanta, GA. BBI builds on the legacy of Burton Blatt, a pioneering disability rights scholar, to better the lives of people with disabilities. For more information about BBI, visit: https://bbi.syr.edu.