December 3, 2018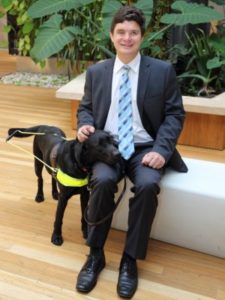 Dr. Harpur, senior lecturer with the TC Beirne School of law at the University of Queensland, Australia and International Distinguished Fellow with the Burton Blatt Institute, was today awarded 2019 Fulbright Futures Scholarship by the Australia-United States Fulbright Commission. Dr. Harpur's project, "Universally Designed for whom? Disability, the Law and Practice of Expanding the "Normal User", builds on his earlier research with BBI.
Harpur's project will examine those who draft and influence the formation of disability inclusive standards, universal design models and web accessibility guidelines, including academics, disability person organizations, industry lobby groups and frontline decision makers. Dr. Harpur developed the concept of hierarchies of impairments with his 2017 co-authored publication with BBI Chairman Peter Blanck and with Ursula Connolly from NUIG. Dr. Harpur is combining his work around hierarchies of impairments with his work on the Marrakesh treaty and the regulation of universal design.  His work on Marrakesh and the regulation of Universal design came together in his 2017 monograph entitled, Discrimination, Copyright and Equality: Opening the E-Book for the Print Disabled.  This seminal work was developed during his 2016 visiting fellowship to BBI and was published with Cambridge University Press.
On his Fulbright, he will spend two and a half months at the Burton Blatt Institute (BBI) at Syracuse University, two weeks in Washington D.C., and two weeks at Harvard University.
About the Burton Blatt Institute (BBI)
BBI reaches around the globe in its efforts to advance the civic, economic, and social participation of people with disabilities, with offices in Syracuse, NY, New York City, Washington, D.C., Lexington, KY, and Atlanta, GA. BBI builds on the legacy of Burton Blatt, a pioneering disability rights scholar, to better the lives of people with disabilities. For more information about BBI, visit: https://bbi.syr.edu.