October 31, 2017
Dear Colleague and former director of BBI international programs, Maria Veronica Reina, Passes Away in Argentina
With profound sadness, the BBI family mourns the loss of María Veronica Reina, former Director of BBI's International Programs and Executive Director of the Global Partnership for Disability and Development (GPDD). Maria Veronica passed away on October 27, 2017, in her hometown of Rosario, Argentina. Maria Veronica was an exceptional disability rights advocate and a strong leader in the international disability rights movement, whose accomplishments touched individual lives while contributing to policy and systemic transformations.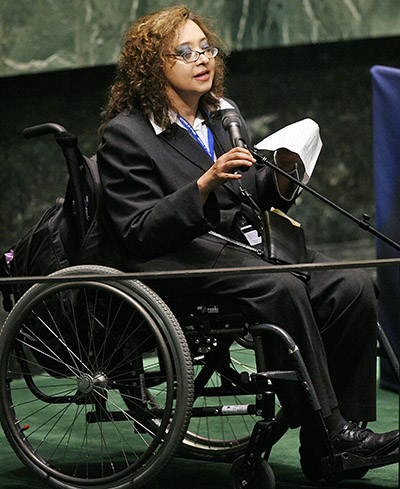 As Director of International Programs, Maria Veronica connected with disability rights advocates worldwide to identify opportunities for mutual support to advance human rights and improved social,civic, and economic participation.
As the Executive Director of the Global Partnership for Disability and Development (GPDD), she strengthened international multi-stakeholder cooperation to accelerate disability inclusion into mainstream social and economic development efforts. Before joining the Burton Blatt Institute, Ms. Reina served as President of the Center for International Rehabilitation (CIR). In this capacity, she oversaw the CIR's programs including Research, E-Learning and the International Disability Rights Monitor Project, a landmark international initiative that documents and assesses the situation of people with disabilities worldwide.
Originally from Argentina, she worked as an educational psychologist, a specialist in learning disabilities and a renowned international disability rights advocate. Prior to working in the US, María's advocacy work focused on raising awareness and involvement of the international community on the Comprehensive and Integral International Convention on the Protection and Promotion of the Rights and Dignity of Persons with Disabilities. María has organized Inter-American campaigns on the Convention aimed at the media, governments and other nongovernmental organizations, including the "Susana Abalo defense" campaign.
One of her most pivotal roles came during the United Nations negotiations during the drafting of the Convention on the Rights of Persons with Disabilities. Maria Veronica was the Coordinator of the International Disability Caucus – the body that represented the voice of persons with disabilities during the treaty negotiations. She played a critical role in moderating the communications of the caucus and bringing unity and cohesion among diverse caucus stakeholders through respect, openness and commitment to shared values. In addition, Maria chaired international disability rights meetings and conferences, moderated the International Disability Caucus communications and managed the Spanish translation and distribution of Disability Convention documents throughout Latin America. Maria Veronica was a staunch supporter of promoting the representation and leadership of organizations from developing countries in international disability fora.
Other organizations with which Ms. Reina has worked include the Inter-American Institute on Disability, the Institute for International Disability Advocacy, the Institute for International Cooperation and Development, Argentinean Disabled People Organization Cilsa, and University Institute "San Martin", where she was an adjunct professor.
A graduate of the Catholic University of Santa Fe in Argentina, Ms. Reina received a specialization in Special Education for School Integration and a Master's degree in Open and Distance Learning and Teaching, at the Spanish University Uned.
Colleagues fondly remember her zest for life, her team spirit, and her sincere concern for their well-being. She was an incredible mentor to those who worked under her, giving opportunities and helping to shape careers. She challenged us all to do better and work harder. Her loss leaves a hole not just within our community but also within our hearts.