February 16, 2016
Dr. Paul Harpur, Senior Lecturer at The University of Queensland TC Beirne School of Law will discuss the topic of Disability, Access, and Libraries in the Digital Age Tuesday, February 16 at 3:00 PM at Syracuse University, Bird Library – Peter Graham Scholarly Commons.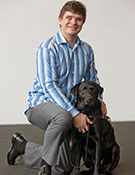 Dr. Paul Harpur's research analyses the practical and theoretical operation of laws and institutions that impact upon equality for persons with disabilities.  This research agenda considers the capacity of persons with disabilities to exercise various rights protected by the United Nations Convention on the Rights of Persons with Disabilities.
Dr. Harpur brings his personal experience to his research, being totally blind, a former Paralympian and practicing lawyer, in addition to his extensive research experience.
Topics include:
What are universities' obligations to ensure their students have equal access to digital spaces, including E-Libraries, E-Books and E-Readers?
What are some practical steps that university librarians can take to encourage publishers to embrace inclusive design?
How can organizations maximize the possibility that their library will create a digital environment that is accessible to all students regardless of their abilities?
ASL and CART will be provided. To request other accommodations, contact Lesley Pease (ldpease@syr.edu) by February 10th.
Co-sponsored by the Renée Crown University Honors Program, Burton Blatt Institute, and Syracuse University Libraries