Internship Opportunity
The summer internship provides students, who are in their first or second year of law school, with a highly structured opportunity to learn first-hand about the public policy making process from a disability perspective and be engaged in research and writing on statutory and regulatory issues impacting persons with disabilities and their families.
2008 DPL Participants
The 2008 Disability Policy Leadership Program participants, all from the Syracuse College of Law, were selected on a competitive basis to participate in this program based on the experience they have, as well as the academic excellence that each has achieved.
"Through these students, we continue the legacy of Dr. Burton Blatt and know he would be proud of this program to help support the next generation of disability law and policy leaders," says Peter Blanck, University Professor and BBI Chairman.
Jacob Leon Beier of Normal, IllinoisJacob earned his Bachelor of Science in Politics and Government (summa cum laude) from Illinois State University in 2006, and currently is the Editor-in-Chief of the Impunity Watch Law Journal.
Christopher Doval of Richmond, VirginiaChristopher received his Bachelor of Arts in Philosophy from Virginia Commonwealth University in 2006 and previously worked in varying support and advocacy positions in the disability community.
Janelle Frias of San Antonio, Texas.Janelle received her Bachelor of Arts from the University of Texas at San Antonio in 2005 and previously served as the Interim Associate Director of Volunteer and Youth Services during San Antonio's response to Hurricane Katrina.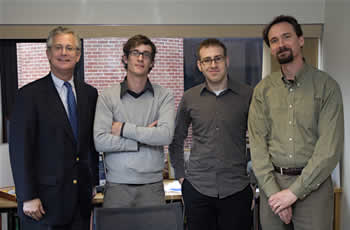 (left to right): BBI CEO -Michael Morris, 2008 DPL Intern – Jacob Leon Beier,  2008 DPL Intern – Christopher Doval, and Senior Research Associate – William N. Myhill.

Program Direction
Participation in the summer program is coordinated by the BBI Washington, D.C. office under the direction of BBI Chief Executive Officer Michael Morris, and in partnership with on-going legal research initiatives at BBI's Syracuse University headquarters.  Morris has more than 25 years of experience in public policy development to advance social and economic independence for individuals with disabilities.
According to Morris, "This summer, two of the students will assist the Global Partnership on Disability and Development, a joint project of the World Bank and BBI, by comparing inclusive development policies and practices in countries worldwide. The third student will focus on legal analysis of multiple legislative proposals before Congress that seek to advance savings, asset building and self-sufficiency for individuals with disabilities and their families. The opportunity is a once is a lifetime experience to impact quality of life outcomes for millions of persons with disabilities in the United States and in developing
countries worldwide."
Law students who participated in the first and second years of the DPL Program had the opportunity to meet policymakers and key staff, observe congressional floor debates, attend legislative and administrative hearings, provide research support to Task Forces of the Consortium of Citizens with Disabilities, and learn the essential skills of negotiation that are part of effective advocacy.
Under the leadership of nationally recognized public policy experts, our law students will become part of Syracuse University's commitment to scholarship in action, integrating discovery, learning, and public engagement.