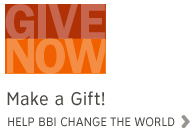 Do you want to make an impact in a person's life? Create possibilities? Incite change in the home, workplace, community, and the world?
You can by making a gift to the Burton Blatt Institute (BBI) at Syracuse University. Your generous support helps positively impact the lives of people with disabilities. BBI is a leader of change through its numerous programs and research, which are supported almost exclusively by public funding and grants. BBI seeks private gifts to further advance its innovation and ensure sustainability of its impact where it matters most – in the lives of people with disabilities and their families around the world.
The Burton Blatt Institute will use your generous donation to increase opportunities and urge progression to better the lives of those with disabilities. Our mission is to advance the civic, economic, and social participation of people with disabilities. We have more than thirty-five projects in existence today, including the Southeast ADA Center, the National Resource Center for Supported Decision Making, Community Living and Supported Decision-Making, and Global Public Inclusive Infrastructure – Automated Personalization Computing Project (GPII-APCP). Your money will help these projects progress to the next level, enabling the success of disabled people worldwide.
Your one-time or annual gift at any level is appreciated. Some employers will double your gift through matching programs. If you wish to make a more significant gift or want to create a gift plan that provides you with income, reduces your estate, and/or passes assets onto heirs, there are ways to accomplish these goals and still support BBI. A gift to the BBI today, makes for a better future tomorrow.
You can donate online to BBI by clicking the Make a Gift button below.
OR
Send a check payable to "Burton Blatt Institute" to: Burton Blatt Institute at Syracuse University  900 S. Crouse Ave. Crouse-Hinds Hall, Suite 300 Syracuse, NY 13244-2130 And indicate "BBI General Fund" on the memo line.